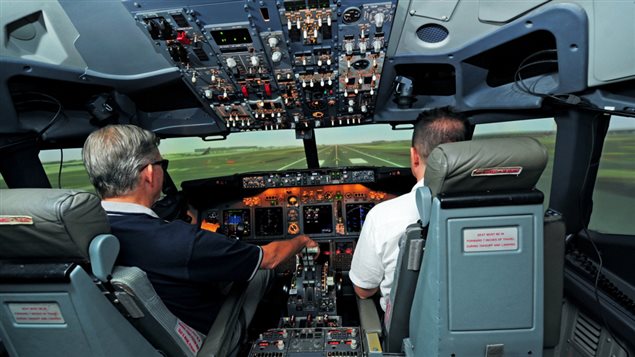 Greater Montréal has a unique concentration of educational institutions and research centres that work closely with companies from the sector to provide advanced training and maintain an outstanding innovation capacity.
Universities, technical colleges, trade schools and continuing education institutes offer programs and opportunities in the aerospace industry. More than 4,500 new graduates per year ensure the industry a specialized succession.
École des métiers de l'aérospatiale de Montréal (EMAM)
A vocational school with a 9,755 m2 facility, EMAM offers specialized programs such as cable and circuit assembly, machining techniques and surface treatment.
École nationale d'aérotechnique (ÉNA)
First in North America, ÉNA offers specialized programs in aircraft manufacturing, maintenance and avionics, as well as a college diploma in English in aircraft maintenance. ÉNA has advanced equipment and a fleet of over 32 aircraft used to train its 1,000 students.
Universities
École Polytechnique de Montréal, École de technologie supérieure (ÉTS), McGill, Concordia, Laval, Sherbrooke universities and the Université du Québec à Chicoutimi offer programs covering the disciplines of mechanical, electrical, computer, aerospace, industrial and metallurgical engineering as well as a joint master's program with an aerospace engineering project sponsored by the Comité sectoriel de main-d'oeuvre en aérospatiale au in Québec (CAMAQ). Polytechnique Montréal has recently introduced a new undergraduate program in aerospace engineering, which will produce its first graduates in 2012.
Montreal Aerospace institute
The MAI is an organization of the Montreal Aerospace industry and universities, created to address Industry's present and future needs for engineering Highly Qualified Personnel (HQP). Each University is represented in the MAI by an Institute, created for this purpose, that normally serves as an "access door" for these Universities.
Comité sectoriel de main-d'œuvre en aérospatiale au Québec (CAMAQ)
CAMAQ offers a forum to promote better cooperation among employers, workers, managers of educational institutions and government stakeholders involved in workforce planning and training.
With the largest pool of engineers in the country and the highest concentration of technicians, operators and assemblers, Montréal's aerospace industry works in partnership with three unions: the IAMAW, SCEP and CAW-Canada.