MACH Fab 4.0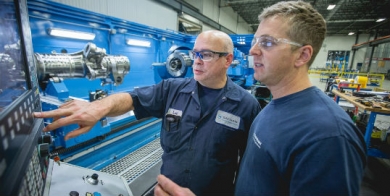 The MACH FAB 4.0 Initiative
Facilitating SMEs' transition to Industry 4.0
The third area of priority in the 2016-2026 Québec Aerospace Strategy is entirely devoted to SMEs. It aims to make them more competitive and better adapted to new technologies. Québec's aerospace SMEs will then become more fully integrated into the global supply chain and increase their presence in export markets.
The Québec government is supporting a new approach for improving the competitiveness of SMEs: the MACH FAB 4.0 Initiative. Based on Aéro Montréal's MACH Initiative, MACH FAB 4.0 is a customized support measure designed specifically for SMEs. The goal is to encourage the implementation of digital technologies and advanced manufacturing in the participating SMEs.
A $19 M project, including $9.5 M in public funding
Support for 50 Québec aerospace SMEs in their transition to the digital enterprise of the future
The implementation of this new initiative will be overseen by Aéro Montréal. The main partners are Sous-traitance industrielle du Québec (STIQ), the Centre facilitant la recherche et l'innovation dans les organisations (CEFRIO), and AÉROÉTS
FOR PROJECT SUBMISSION:
In order to submit a project, please read the all the information in Sommaire Executif – MACH FAB 4.0 (French only). This document will give you all the pertinent information regarding the initiative.
For project submittal, please fill out the form, Formulaire de proposition de projet (French only) and submit it to Martin-C. Boucher.
The first companies to participate in this initiative are :

Contact:
Martin-C. Boucher, M. Eng.
Project Manager MACH FAB 4.0
380 rue Saint-Antoine Ouest
Bureau 8000
Montréal, QC
H2Y 3X7
T 514 987-9324
E-mail
PARTENAIRES