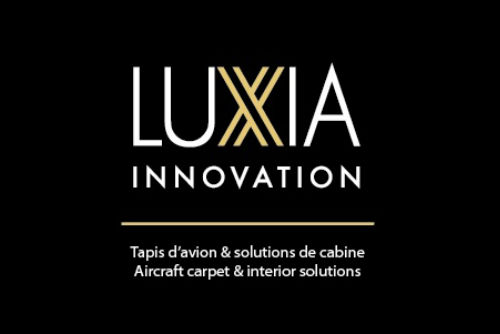 September 10, 2019
Luxia Innovation, The Technological Craftsman
The aerospace industry is a state-of-the-art field where innovation is a matter of survival. When boarding a plane, carpets are rarely thought of unless they are stained or damaged. Yet their design, installation and maintenance require the use of innovative methods using craftsmen for certain stages. As a passenger aboard a CRJ or an A220, if the carpets of the plane pass unnoticed, it is because Luxia Innovation has done its job well.
Luxia's specialty
Luxia Innovation is a company specializing in aircraft carpets. It currently converts close to 350 of them per year and its turnover is divided equally between the business jet and commercial aircraft sectors. Luxia Innovation is one of North America's largest carpet finishers for private aviation and used aircraft.
To take measurements of a used carpet inside an aircraft, Luxia Innovation uses a 3D scanner to guarantee accuracy. Its experts carry out the cutting and finishing of carpets using sewing machines or embroidering by hand. They use individual sewing machines for commercial aircraft, because each airline has its own trim finish.
Luxia Innovation has developed a unique expertise in the field of repairing damaged carpets and cleaning stains. In the Montreal area, it offers an emergency service to its customers with a mobile team that is able to go to the customer at any time. From time to time, the team is called outside of Canada for problems that competitors cannot resolve.
Constant innovation
Like all companies in the aerospace industry, Luxia Innovation constantly innovates to stand out. Since airplane carpets all contain 60% to 100% wool and the remainder silk, they tend to warp as a result of changes in moisture content. Luxia Innovation is working on a process to prevent carpets from becoming deformed by changes in moisture content after installation.
The culture of the company
Luxia Innovation was founded in 2009. Five years later, partners Éric Roberge and Francis Labonté acquired one of their major suppliers, D. Dubé Artisan. As the name suggests, D. Dubé Artisan was a craft company and in the year following the acquisition, the two partners changed the company structure, implemented an ERP system and obtained AS9100 certification. Two and a half years later, they doubled the size of the finishing centre.
Messrs. Roberge and Labonté are two leaders with a rather calm temperament, easy to approach and pleasant to communicate with. Their attitude is reflected in the approximately 35 employees of Luxia Innovation who have a ready smile and work in an environment conducive to quality and precision.
The expansion
To continue to innovate, Luxia Innovation is participating in Aéro Montréal's Accelerator 360° initiative, which consists of four stages. The first is recruitment, where companies are evaluated. Those selected are grouped according to their different strengths and synergistic potential. Then comes the stage of preparation with market development experts who assist and train companies in their strategic planning process. The third step is propulsion, which consists of validating the chosen market and tackling it. The fourth step is the setting up of partnerships and/or merger/acquisition.
Accelerator 360° is supporting Luxia Innovation in a structured and thoughtful development process so that it can make the right decisions. The opening of the A220 assembly line in Mobile, Alabama represents an opportunity for Luxia Innovation to grow in the United States since it is the carpet supplier for this aircraft program.
The company is currently looking for a partner who would complement its activities. The two partners are open to discussions with one or more entrepreneurs looking for a partner with relevant experience and quality standards. Although the focus is on the United States, they are also willing to seize opportunities that come from elsewhere in the world.
Les dernières nouvelles
December 6, 2019

Varitron, it's all about innovation!

Its history Varitron has been active in the advanced electronics industry for...

En savoir plus