Branding and Promotion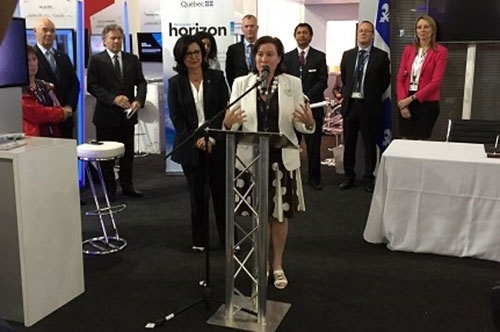 Our aerospace industry enhances Québec's profile on the world stage and increasingly represents a symbol of national pride for Quebecers.

Aéro Montréal created the Branding and Promotion Working Group with the goal of raising awareness about the Québec aerospace sector. The Working Group aims to increase awareness of the Québec aerospace sector, its players and competitive advantages, and enhance its visibility and outreach.

The group is composed of 11 people from the industry and institutional sectors. Members are mainly experienced communications professionals.
Members of the working group Branding and Promotion

WORKING GROUP CHAMPION
Pascale Alpha
Director, Global Communications
CAE
Patricia Bergeron, Bell
Sylvie Bourassa, Université Concordia
Fannie Couture, AV&R
Marc Duchesne, Pratt & Whitney Canada
Éric Edström, CAMAQ
Josée Gaulin, L-3 MAS
Caroline Joubert, ministère de l'Économie, de la Science et de l'Innovation
Alain Legault, Cégep Édouard-Montpetit
Olivier Marcil, Bombardier
Mike Muldoon, Radix
Peter Papadatos, FDC Composites
Christoph Schewe, IFALPA
News
Sylvain Bédard becomes Chairman of the Board of Directors of Aéro Montréal

Montréal, June 27, 2018 - At its latest regular meeting, the Board of Directors of Aéro Montréal chose Mr. Sylvain Bédard to chair the organization's board, replacing Ms. Hélène V. Gagnon, who held the position for three years. Mr. Sylvain...

---

June 27, 2018

Lancement du dernier volet de la Stratégie de développement économique de Montréal

Montréal, le 28 juin 2018 — Aéro Montréal, la grappe aérospatiale du Québec, se réjouit que la Ville de Montréal ait retenu la mobilité des travailleurs et l'accès aux pôles d'emploi comme un axe de développement économique de la...

---

July 4, 2018

AEROSPACE: STRATEGIC ALLIANCE BETWEEN QUÉBEC AND WALES

Aero Montréal signs an agreement with Aerospace Wales Farnborough (United Kingdom), July 17, 2018 – As part of the Québec Trade Mission to the Farnborough International Airshow, Aéro Montréal, Québec's aerospace cluster, has signed a...

---

July 17, 2018

DES ANNONCES PROMETTEUSES POUR L'INDUSTRIE QUÉBÉCOISE DE L'AÉROSPATIALE

Farnborough, le 17 juillet 2018. – En marge de la mission économique du Québec organisée à l'occasion du Salon international de l'aérospatiale de Farnborough, la vice-première ministre, ministre de l'Économie, de la Science et de...

---

July 17, 2018

Marc Parent, CAE's President Chief Executive Officer, is named CEO of the Year 2018 by Les Affaires business journal

Montreal, Canada, December 6, 2018 – (NYSE: CAE; TSX: CAE) – CAE is pleased to announce that its President and Chief Executive Officer, Marc Parent, was named CEO of the Year, in the Large Corporation category, by Quebec-based business journal Les...

---

December 6, 2018