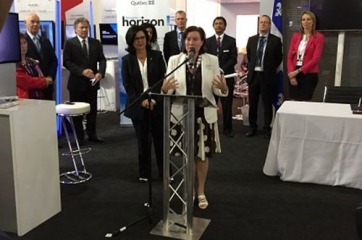 Contact(s)
Kaven Delarosbil
Workgroup members
Janie Mercky, CAE (Pillar's President)
Amélie Forcier, Airbus Canada
Patricia Bergeron, Bell Textron Canada
Julie Blain, CAMAQ
Catherine Saucier, CEGEP Édouard-Montpetit-ENA
Rosalie Côté, Drakkar Digital
Julie-Claude Gauthier, ÉTS
Peggy Perrier, MDA
Nathalie Scott, MHIRJ
Catherine R. Cunningham, Pratt & Whitney Canada
Québec's aerospace industry is a source of pride that shines both in Québec and abroad. The main mandate of the Image, Influence and Marketing Committee is to support Aéro Montréal's committees and secretariat in their communications and public relations initiatives aimed at raising the profile of the aerospace industry in Québec and around the world. It is made up of representatives from the communications field and the aerospace industry, most of whom are communications professionals with extensive experience.
Committee Objectives
Create and implement a major communication campaign aligned with the needs of the industry.
Support Aéro Montréal's various working groups in carrying out their mandates.
Promote Québec's aerospace sector to cluster members and the public locally, nationally and internationally.
Promote and support the creation of content for the cluster's various events.
Highlight the services available to current and potential members of Aéro Montréal with a view to attracting, satisfying and retaining members.
Main Activities
Since September 2022, the Image, Influence and Marketing Working Group has in particular piloted the creation and deployment of a large-scale communication campaign whose objective was to ensure the sector's visibility, stimulate attraction and support retention of industry workers. More than 50 companies contributed to this campaign alongside Aéro Montréal.
For the very first time, the Chantier proposed a collective campaign, designed to address students (18-22), young workers (18-30), young workers (18-30) and immigrants. A portion of the latter was specifically aimed at young girls and young women. Launched at the International Aerospace Innovation Forum on September 7, 2022, the campaign will continue in 2023 with the aim of strengthening the pool of Quebec talent.
In parallel with this work, the members of the Image, Influence and Marketing Working Group carry out various projects to promote the Quebec aerospace sector to members and public opinion locally, nationally and internationally.
Workgroup President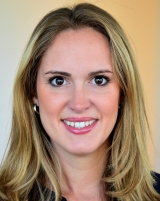 Janie Mercky
Manager, Public Affairs and Global Communications
CAE