DEFENCE INNOVATION PROGRAM WORKSHOP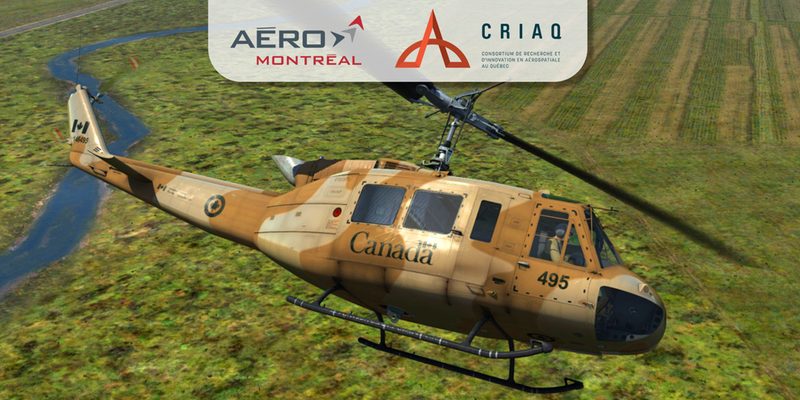 Event date
April 17, 2018
Event location
Forum innovation aérospatiale
Palais des congrès, 1001 Place Jean-Paul-Riopelle, Montréal, QC H2Z 1H5
Contact
Charbel Khoury
charbel.khoury@aeromontreal.ca
Back to List
Aéro Montréal is pleased to offer you the opportunity to participate to the Defence Innovation Program Workshop. This activity is part of the 2018 Aerospace Innovation Forum and is organized in collaboration with the Department of National Defence and CRIAQ/CARIC.
One of the objectives of the workshop is to promote the DND IDEaS Program, to support companies in the identification of opportunities and the initiation of business collaborations with other industrial partners.
Collaborative research and development project ideas resulting from the workshop or otherwise will be presented during CRIAQ's RDV Forum the following day. CRIAQ's RDV Forum is attended by a large community of both academic and industrial researchers. In continuity with the expression of needs and capabilities expressed during Aéro Montréal's workshop on April 17 or otherwise, CRIAQ's RDV Forum provides a great opportunity to find expertise, partners and funding to develop technologies needed by prime contractors and defence programs.
Aéro Montréal Workshop Program (April 17 from 10h30 to 12h00) room 518
"Session de cartes routières technologiques en Défense : The Innovation for Defence Excellence and Security program, (IDEaS)"
with Éric Fournier, Director General (Science & Technology), Defence Research and Development Canada (DRDC).
A maximum of 130 participants is allowed (80 SME / research establishments / academia and 40 OEM and Tiers 1 / 10 Government representatives)
Workshop Program Details
The first part of the workshop will consist of presentations from the IDEaS program team, the Department of National Defence, and the Royal Canadian Air Force. The presentations will explain how the program works and introduce the current or future RCAF platforms.
The first part will last 20 minutes.
In the second part of the workshop, participants will split in three separate rooms; each room will be allocated specific technological and platform areas. Companies and organizations will present their needs or capabilities to the participants of the technological sector (10 presentations of 5 minutes each). The presentations will be made in accordance with a predefined template.
The duration of that segment will be 50 minutes.
Companies and organizations interested in presenting need to request a presentation slot in advance (please see form at the end of this document). The technological areas and platforms will be allocated in the following way:
| | |
| --- | --- |
| Room | Technological Area |
| Room 518 | Augmented reality, Advanced maintenance processes, Virtual design and testing, Eco-technologies |
| Room TBD | Artificial Intelligence, Big Data Processing |
| Room TBD | Autonomous Vehicles, Advanced manufacturing |
CRIAQ RDV Forum Program (April 18 from 9h00 to 12h00)
Collaborative R&D project ideas presentation session will be held on April 18, from 9h00 to 12h00, as part of the CRIAQ RDV Forum. During this session, defence related R&D projects will be presented in a specific defence segment.
Project presentations are in the form of quick pitches (3-5 mins), in plenary, to all RDV Forum participants. Presentations will facilitate identification of interested partners to build you project partnership.
The defence segment of the CRIAQ RDV Forum will include projects in line with the needs/capabilities presented at the Aéro Montréal workshop.
To submit defence related R&D project ideas:
Collaborative R&D project ideas already in discussion, or mature enough can be submitted using the standard CRIAQ submission process: http://www.criaq.aero/rdvforum2018/en/project-ideas/
Deadline to submit project ideas is March 16th, 2018
** Project ideas emerging from Aéro Montreal workshop on April 17 will be captured during the session and will be briefly mentioned during CRIAQ RDV Forum on April 18.
Request a 5-minute Presentation Slot at the Aéro Montréal Workshop
You are requested to fill the following form to request a slot for a 5-minute presentation on your needs or capabilities. You decide on either presenting specific needs for your projects or capabilities/expertise you can offer to help others with their projects.
Please read carefully the following conditions to ensure you have the best chances possible to obtain a time slot for your presentation.
Apply for your presentation slot as early as possible, this will put the best chances on your side to secure this opportunity to present your company needs or capabilities;
Fill out the following form to formulate your proposed presentation topic, please remember to provide information for all the fields. This information will be used to allocate your presentation to the right room and subgroup;
Make sure you are registered to the workshop prior to sending the form to request a presentation slot;
Please send the filled form by email to: lefrancois@aeromontreal.ca or
charbel.khoury@aeromontreal.ca;
There are no extra fees for your participation to the workshop; it is included in your registration fees for the 2018 Aerospace Innovation Forum.

Please fill your presentation and send it to charbel.khoury@aeromontreal.ca