Forum: The Inclusive Organization of Tomorrow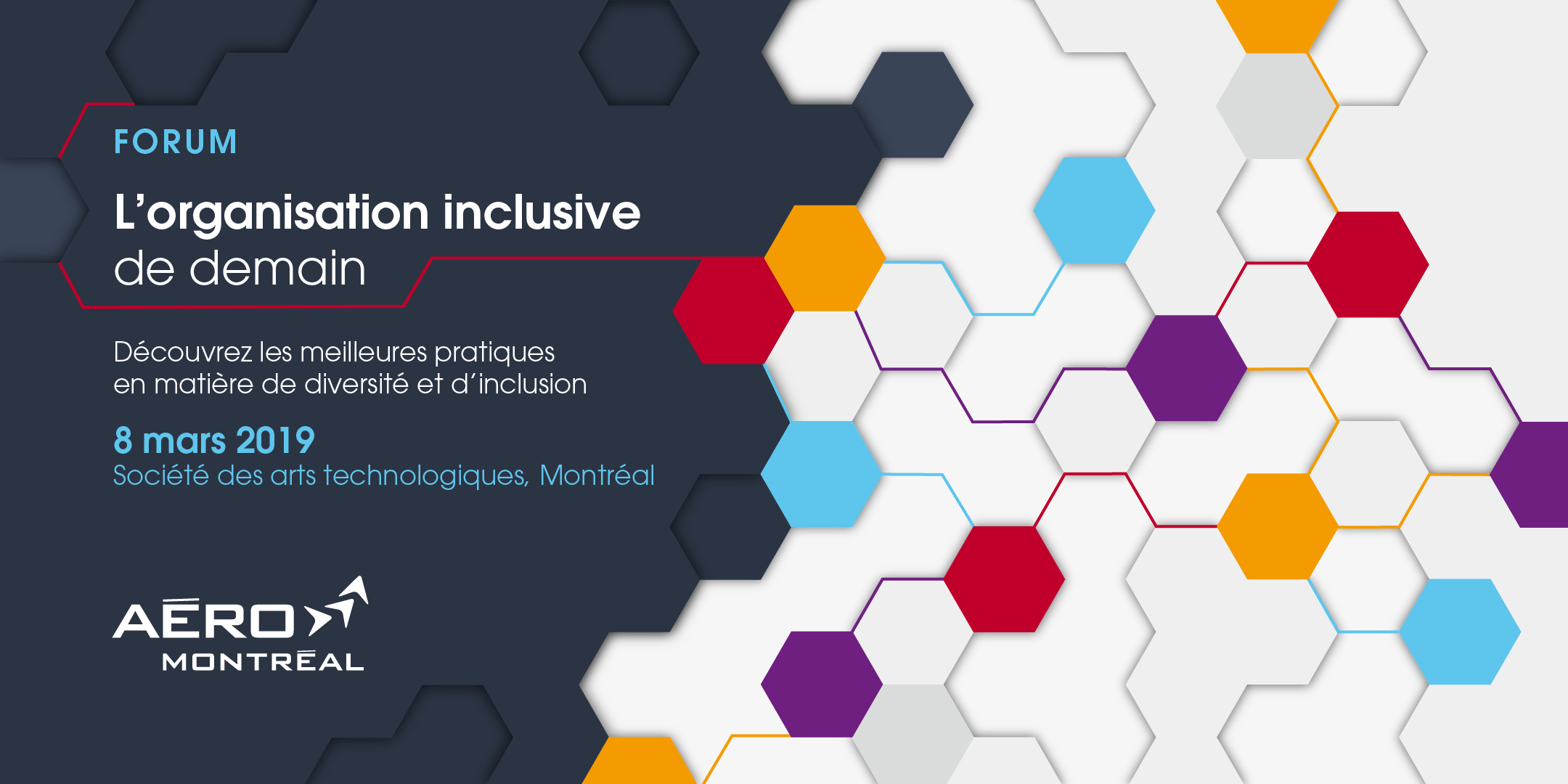 Event date
March 8, 2019
Event location
Société des arts technologiques
1201 Boul St-Laurent, Montréal, QC H2X 2S6 (Métro Saint-Laurent)
Contact
Back to List
[EVENT IS SOLD OUT]
From 8:30 a.m. to 4 p.m.
Organized as part of International Women's Day, this event is an opportunity to celebrate diversity and inclusion within organizations. Through high-quality conferences, panels, workshops and discussions, you will have the chance to discover the best practices promoted by companies from different industries.
What are the most effective strategies for attracting and retaining top talent and supporting their development? How should you guide their career development in the workplace? What role can leaders play in fostering an inclusive culture? Which communication strategies should you use? These are only some of the questions that will be discussed at the Forum.
During the day, we will welcome leaders of major organizations, including BASF Canada, Bombardier, Desjardins, GSoft, Hydro-Québec, Pratt & Whitney Canada and many more.
Sign up today by clicking on the following link: https://www.eventbrite.ca/e/billets-forum-lorganisation-inclusive-de-demain-55349174872
---
Program
8:30 a.m. Greet participants
9:00 a.m. Words of welcome by Suzanne Benoît, President, Aéro Montréal
9:03 a.m. Remarks by Jean Boulet, Québec Minister of Labour, Employment and Social Solidarity
9:08 a.m. Remarks by Monique Savoie, President, Founder and Artistic Director, Société des arts technologiques
9:10 a.m. Remarks by Kim Thúy, Writer and Author
9:25 a.m. Diversity in the Workplace: State of Play and Future Directions
Study conducted in collaboration with the Organization for Economic Cooperation and Development (OECD)
Tania Saba, BMO Chaired Professor of Diversity and Governance, Professor, School of Industrial Relations, Université de Montréal
10:00 a.m. Diversity in Tech: Immediate Actions and Long-Term Vision
Cédric Orvoine, Vice President, Human Resources and Communications, Ubisoft Montréal
10:30 a.m. Break
10:45 a.m. Leadership that Champions Diversity and Inclusion
Houssam Alaouie, Director, Research & Development Programs and University Relations, CAE
Lucie Guillemette, Executive Vice President and Chief Commercial Officer, Air Canada
Anne-Marie Hubert, Québec Managing Partner, EY Canada
Julie Sbeghen, Director, Generation Planning, Hydro-Québec
Panel and discussions moderated by Selena Lu, Attorney, Lapointe Rosenstein Marchand Melançon, and President of the Jeune Chambre de commerce de Montréal
12:00 p.m. Lunch
1:00 p.m. Innovative Practices to Advance Diversity and Inclusion
Simon De Baene, Co-Founder and CEO, GSoft
Stéphane Lavoie, Executive and Programming Director, TOHU
Salwa Salek, Senior Director, Organizational Developpement and Employee Experience, Desjardins
Kevin Smith, Vice President, Human Resources, Pratt & Whitney Canada
Panel and discussions moderated by Jean-Philippe Décarie, Business Columnist, La Presse
2:15 p.m. Inclusive Communications and Culture
Marcella Cortellazzi, Head of Communication, Airbus A220
Donna Lahache, Director of Education, Ahkwesáhsne Mohawk Board of Education
Alain Legault, Director, Corporate Communications and Public Relations, Société de transport de Montréal
Danielle Pitl, Senior Director, Brand Strategy and Internal Communications, Bombardier
Panel and discussions moderated by Dafina Savic, Co-Founder, UENA Agency
3:30 p.m. Closing Conference
Éric Fournier, Partner and Executive Producer, Moment Factory
4:00 p.m. Closing remarks by Kim Thúy, Writer and Author
4:05 p.m. End of the event
---
Register now! Limited seats available. Mark your calendar for this important event on March 8!