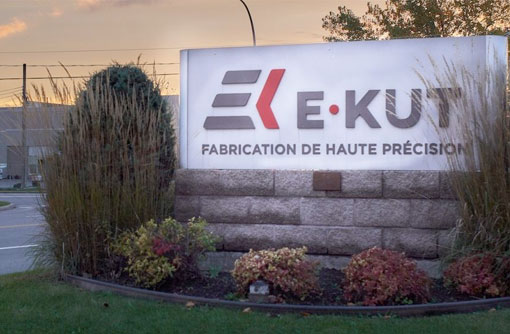 October 19, 2020
DCM Group Inc. announces the acquisition of Electro-Kut
Québec-based DCM Group Inc., which is active in numerous aerospace fields, has announced the acquisition of Electro-Kut. Based in Laval, this company manufactures and assembles complex components for the civil and military aerospace sector.
A consolidation of expertise to remain competitive
Expert in the machining of castings and forgings and in exotic alloy materials used in the manufacture of landing gear components, Electro-Kut also offers tooling design and manufacturing services and a combination of machining (CNC) and electro-erosion (EDM) activities. With this acquisition, DCM Group Inc. is complementing its four existing divisions to support growing international demand and the development of new markets.
"We are pleased to welcome the E-Kut team to our Group," says Éric Ledoux, President and CEO, DCM Group Inc. "Over the years, E-Kut has developed a unique expertise in EDM and the machining of complex parts for the military sector. This expertise fits perfectly with our strategic offering to current and future customers."
"To remain competitive and stand apart, Québec's aerospace market needs to consolidate," says Christian Delisle, President and Founder of Electro-Kut. "We have to demonstrate our know-how through our in-depth knowledge while maintaining a high degree of flexibility. Even today, too many Québec SMEs remain independent and do not have the clout to stand out on the international stage despite their tremendous expertise. Our particular footprint is too small to be of interest to outside stakeholders. With DCM Group Inc., we offer complementary strengths. This alliance of technical skills, automated production and niche products will be even better deployed within a seasoned management team supported by a strong sales team in both Europe and the United States. I sincerely believe that the future is bright for the DCM Group. The contribution of Electro-Kut and its competent and dedicated team, with whom I have had the pleasure of working and growing over the past 35 years, will prove to be significant for the future of the Group."
Aéro Montréal at the heart of strategic industry linkages
DCM Group Inc. and Electro-Kut are participating in Aéro Montréal's Accelerator 360° program, which aims to support SME managers in their development strategy through internationalization and consolidation actions.
"Thanks to programs such as the 360° Accelerator program, Aéro Montréal is able to support consolidation within the Québec aerospace industry," says Suzanne M. Benoît, President of Aéro Montréal. "We are very proud to see this new success story emerge. The acquisition of Electro-Kut by DCM Group Inc. represents a true strategic alliance of two companies with complementary expertise that will undoubtedly strengthen our Québec aerospace cluster."
Adds Mr. Delisle, "Over the past few years, Electro-Kut has taken advantage of several support programs offered by Aéro-Montreal. The Mach and Mach Fab 4.0 programs have really contributed to improving our service offering both in terms of operational management and technical skills. The 360° Accelerator program, for its part, has contributed to establishing a rapprochement between SMEs wishing to participate in market development and consolidation. These exploratory steps have helped prepare the next generation. Discussions with the DCM Group convinced us that their energetic and competent leadership will increase the strengths of each of the entities that make up the Group."
Les dernières nouvelles
November 18, 2020

Pandemic: Arbitrator examines teleworking rights and obligations of Quebec employers

In a recent decision handed down on October 26, 2020,[1] arbitrator Mtre...

En savoir plus