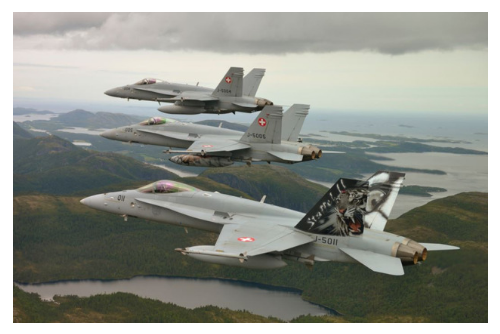 November 13, 2018
L3 MAS Wins More F/A-18 International Business
MIRABEL, Quebec, November 13, 2018 – L3 MAS announced today that it has been awarded two contracts to provide In-Service Support (ISS) services for international F/A-18 fleet operators.

RUAG Aviation recently awarded L3 MAS a contract for the provision of preventive modifications for high-priority structural locations on the inner wings of the Swiss Air Force (SAF) F/A-18 aircraft fleet. These modifications are part of the Structural Refurbishment Program (SRP2), as part of the strategy to ensure their F/A-18 fleet safely reaches its planned life objective.

L3 MAS was also selected by Mississippi-based Vertex Aerospace LLC to perform depot-level modifications and repairs on three NASA F/A-18 aircraft based out of the Armstrong Flight Research Center (AFRC) at Edwards Air Force Base in California. L3 MAS will conduct all on-aircraft work at its Mirabel facility.

"We are pleased to expand our ongoing relationship with the SAF's prime contractor, RUAG Aviation, and to add NASA (through Vertex Aerospace) as a new customer to our list of F/A-18 international operators. These contracts are a testament to the continued confidence of the international F/A-18 community in L3 MAS as a fighter aircraft center of excellence," said Jacques Comtois, Vice President and General Manager of L3 MAS. "Our company possesses unique and proven skills, tools and experienced personnel to offer world-class services and value to fighter aircraft operators."

L3 MAS is a world leader in developing and implementing F/A-18 structural solutions, having already successfully completed major structural programs for the Royal Canadian Air Force and the Royal Australian Air Force, and assisting other F/A-18 users, including the SAF, the Finnish Air Force, the U.S. Navy and NASA.

About L3 MAS
L3 MAS, a division within L3's ISR Systems business segment, is Canada's leading In-Service Support (ISS) integrator. L3 MAS delivers innovative and integrated solutions that span the full spectrum of ISS. This includes fleet management, annual maintenance planning and optimization; Life-Cycle Material Management (LCMM); Integrated Logistics Support (ILS); Electronic Information Environments (EIE); systems engineering; material management; configuration management; publications; and data management. L3 MAS is also known for its design, prototyping, manufacture, repair and overhaul, and certification of aerospace components. The company is headquartered in Mirabel, Quebec, and employs 800 people at operating centres across Canada. To learn more about L3 MAS, please visit the company's website at www.L3T.com/MAS.

About L3 Technologies
L3 Technologies is an agile innovator and leading provider of global ISR, communications and networked systems, and electronic systems for military, homeland security and commercial aviation customers. With headquarters in New York City and approximately 31,000 employees worldwide, L3 develops advanced defense technologies and commercial solutions in pilot training, aviation security, night vision and EO/IR, weapons, maritime systems and space. The company reported 2017 sales of $9.6 billion. To learn more about L3, please visit the company's website at www.L3T.com.
Les dernières nouvelles
February 20, 2020

Economic footprint of the A220 program in Québec and Canada

Aéro Montréal today unveiled the results of a study completed by PwC...

En savoir plus