Supply Chain Development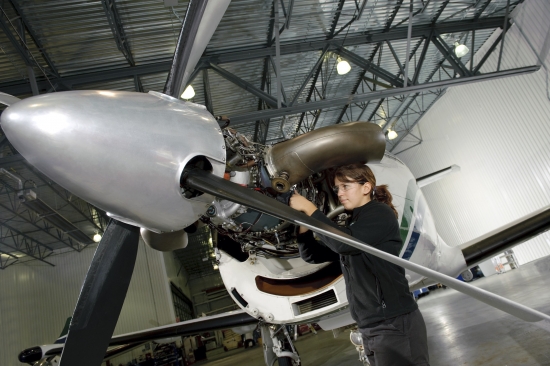 The global aerospace supply chain is rapidly changing. The challenges posed by this transformation are major, but also offer great opportunities for the Québec industry, which is recognized for the expertise and ingenuity of its members.
In a context of globalized world markets, prime contractors are reducing the number of their suppliers, preferring to work with a few intermediary companies that offer integrated solutions and manage numerous subcontractors.
Consequently, the global supply chain is changing, favouring the emergence of integrators who are entrusted with the responsibility for the design, fabrication and assembly of complete systems.
To maintain its leadership position, our industry now has to constantly adapt and innovate to provide an integrated supply chain that is more flexible and aligned with the expectations of prime contractors. Suppliers need to improve their operating practices, increase their innovation capacity, promote partnerships, in short, work together to become stronger.
In the midst of these transformations, Aéro Montréal created the Supply Chain Development Working group. Composed of 13 individuals representing stakeholders in the aerospace supply chain, the group's mandate is to oversee the planning, coordination and implementation of a concerted action plan to respond to the major issues of subcontracting and, ultimately, to increase the competitiveness of Québec aerospace suppliers. It also aims to strengthen the Québec aerospace supply chain vis-à-vis international competition.
Members of the working group Supply Chain Development

WORKING GROUP CHAMPION
Louis Marc Pinard
Deputy General Manager and Director, Strategic Planning & Commercial
Arconic
Timothy Ayoub, L3 MAS
Sylvain Bédard, Sonaca Montréal
Marc Bigras, Groupe Meloche
Louis Bouchard, Bombardier
François Cyr, PCM Techfab
Jacques Dodier, Pratt & Whitney Canada
Éric Faucher, Hutchinson Aéronautique et Industrie Ltée
Gilles Isabel, Bell Helicopter Textron
Jean-Louis Moreau, CAE
Jean Proteau, APN
Martin Richard, Héroux-Devtek
Bassam Sabbagh, JMJ Aéronautique
News
MECACHROME CANADA ANNOUNCES AS9100 revision D & ISO 9001:2015 CERTIFICATION FOR ITS QUALITY SYSTEM MANAGEMENT

Mirabel, June 28th, 2018 – Mecachrome Canada Inc. is pleased to announce the achievement of AS9100 revision D & ISO9001:2015 certification by BSI. This certification reflects the success of Mecachrome Canada Inc. to develop a quality management system...

---

June 29, 2018

L3 MAS Selected to Continue Providing Engineering, Repair & Overhaul, and Publication Management Services on the CT-114 Tutor Aircraft Fleet

MIRABEL, Quebec, August 30, 2018 – L3 MAS announced today that it has been awarded a contract extension from the Canadian government to provide engineering, repair & overhaul, and publication management services on the CT-114 Tutor aircraft fleet. The...

---

August 30, 2018