Clothilde Petitjean
Program Director,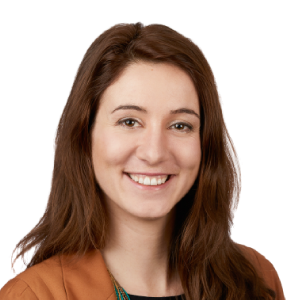 Clothilde Petitjean holds a master's degree in economics and administration with a specialization in international project management and a bachelor's degree in international trade, both completed in France. She has overseen program management for the Consortium for Research and Innovation in Aerospace in Quebec (CRIAQ) since January 2019, after 5 years as a project manager for the same Consortium.
Clothilde entered the world of innovation and collaboration directly after her studies. Her thesis on SME innovation in European research programmes led her to take on the role of coordinating European collaborative activities, then as European and international project manager for the EMC2 competitiveness cluster in France. It is the cluster's collaboration strategy with Quebec that brought her to Montreal in 2013, in collaboration with the SME in plastics processing Saiplast and CRIAQ. In 2019, she successfully completed a comprehensive certificate in Strategic Project Management at the School of Continuing Studies at McGill University, which allowed her to add PMI's project management techniques and methodologies to her studies.
Passionate about structuring innovation projects, Clothilde is committed to the results these projects generate for Quebec companies and industry. Mrs. Petitjean wishes to continue to develop the impacts of the projects thanks to the support of CRIAQ.