Doing MRO in Canada Conference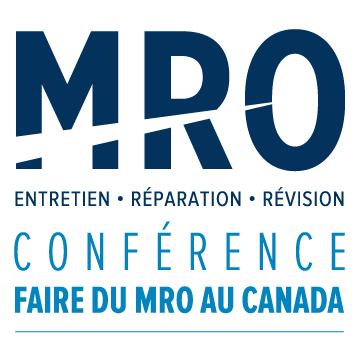 PARTICIPATE TO OUR MRO CONFERENCE AT PALAIS DES CONGRES DE MONTREAL ON APRIL, 28TH !
The conference « Doing MRO in Canada » is an event organized by Aero Montreal in collaboration with Ontario Aerospace Council (OAC), Air Transport Association of Canada (ATAC), Norton Rose Fulbright and BDC for the Canadian aerospace industry targeting discussions on strategic issues. This first edition will explore challenges, opportunities and trends in this market: evolution of business models, R&D and innovation, future of in-service-support models, etc.
This exclusive event will bring together on April 28, Canadian and international companies of all sizes, government, and academia. More than 150 participants are expected to attend.
The conference « Doing MRO in Canada » offers five distinct elements:
a conference program featuring renowned Canadian and international speakers;

a display area (booths);

a program encouraging interactions between buyers / airline representatives and equipment manufacturers / service providers through thematic networking workshops;

a luncheon conference;

a networking cocktail.
Conférenciers confirmés :
Dr. Kevin Michaels, Vice-président - Aerospace & MRO Practice - ICF International
Ronald Donner, Rédacteur en chef - Aircraft Maintenance Technology Magazine
Gilles Néron, Directeur principal, Chaîne d'approvisionnement et Gestion de Stratégie - Air Canada
Jim Andrews, Directeur général - Lockheed Martin Canada Commercial
Robert Gogo, Directeur principal développement des affaires - AJW Technique
Mike Lee, Directeur développement des affaires, maintenance et formation - Flightsafety
Francisco Lopez, Ingénieur Avionique et Systèmes, Ingénierie des Avions en Service - Services à la clientèle - Bombardier Avions commerciaux
Pascale Tremblay, Eng. M.Eng., Directrice sénior, Exploitations Canada, Services aux clients, PRM AMO 20-00 - Pratt & Whitney Canada
Laurent Porrachia, Vice-Président Unité Industrie et Gouvernement – Morpho, Division Sécurité et Authentification Digitale - Safran-Morpho
Dominique Dallaire, Vice-Président, Régions de l'Est - Heroux Devtek
Gilles Mathieu, Directeur offre SAP et innovation - CGI
Marc Gregory, Vice-Président exécutif - Canrep
Alexandra Bell, Directrice des comptes - Exportations et Développement Canada
Jean Potvin, Responsable Assurance Qualité, Direction des études - ENA
Members :
- Visitor= 225$ + tax
- Kiosk (including one visitor access) = 525$ + tax

Non-members :
- Visitor = 300$ + tax
- Kiosk (including one visitor access) = 650$ + tax
REGARDING MRO MARKET:
Canada is the 5th aerospace producer in the world. An important factor for this success is the dynamism of the MRO sector. 1,100 certified Aircraft Maintenance Organizations (AMO) in Canada, with a comprehensive range of capabilities generate more than $3 billion in annual revenues and employ some 17,000 highly skilled workers. Moreover, this sector representing 27% of total Canadian aerospace activities has been experiencing much stronger growth for the last ten years than aerospace manufacturing (37% vs. 29%).