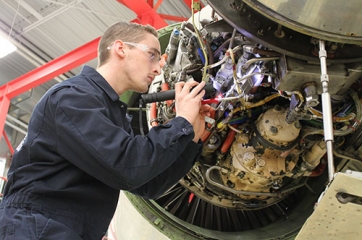 Contact(s)
Béatrice Agostini
Workgroup members
Ali Aidibe, ÉTS
Julie Cantin, Starlink Aviation
Nicka Lavallée, Sonaca Montréal
Sébastien Lagües, École des Sciences de la Gestion (ESG+)
Geneviève Dalcourt, Cégep Édouard-Montpetit
Isabelle De Bellefeuille, L3HARRIS Technologies
Éric Dionne, ÉMAM
Jocelyne Dujmovic, Hutchinson
Carole El Ayoubi, Concordia
Manon Fafard, Bombardier
Solange Fresneau, PCM Innovation
Pierre Gillard, Musée de l'aérospatiale du Québec
Julie Godin, Université McGill
Rita Haddad, Rolls-Royce Canada
Pascal Labelle, Bombardier
Andréane Martel, CAMAQ
Caroline Maso, Pratt & Whitney Canada
Anne-Renée Meloche, Groupe Meloche
Karine Mercier, Cégep Édouard-Montpetit
Ahde Mouafikoune, Polytechnique Montréal
Nadine Nantel, STELIA Aerospace
Anne-Sophie Parenteau, Bell Textron Canada
Clothilde Petitjean, CRIAQ
Sonia Pérusse, Héroux-Devtek
Claude Picard, Pratt & Whitney Canada
Geneviève Nantel, Airbus Canada
Jennifer Vaughan, CAE
Tatiana Montes, LEESTA
Québec's aerospace sector is recognized around the world for the quality of its highly-skilled workforce. An aging population and a significant decline in the number of available workers are major challenges facing our industry.
The mandate of this working group is to ensure the planning, coordination and implementation of a concerted action plan to address significant succession and aerospace workforce challenges and, ultimately, to increase industry competitiveness. (Created in 2008)
Objectives:
To a

ttract young people to the aerospace industry.

To i

mplement the recommendations of the various white papers produced by the

working group

(

4.0

skill

s

)
To foster

the intergenerational transfer of knowledge.

To e

nsure greater harmonization and complementarity with industry partner organizations.
Key projects:
Reclass

ification of employees available in the industry

Management of the

A

e

roPortal

Group insurance for SMEs
Working Group Committees
Heritage C

om

m

it

te

e

:

Determined to meet the

challenge

of intergenerational transfer of knowledge, companies in the cluster

− Bombardier, Héroux-Devtek, JMJ Aéronautique

and

Pratt & Whitney Canada,

i

n collaboration avec Emploi-Québec

– h

ave joined forces with a team from

HEC MosaiC

as part of the

H

e

ritage

project

.
Internship Committee
4.0 Skills Committee

:

This committee's mandate is to

promote the content and recommendations of the

4.0

Industry Skills Sets for Aerospace Guide

publi

shed

by

Aéro Montréal

i

n 2018

Regroupement Relève

Aéro Montréal
Workgroup President

"The aerospace industry is constantly evolving. We are actively working with our partners to develop the next generation of talent. We are committed in promoting diversity, equity and inclusion to provide a stimulating work environment that mirrors our communities."
Caroline Maso
Vice President
Human Resources, Commercial Engines
Pratt & Whitney