HUMAN RESOURCES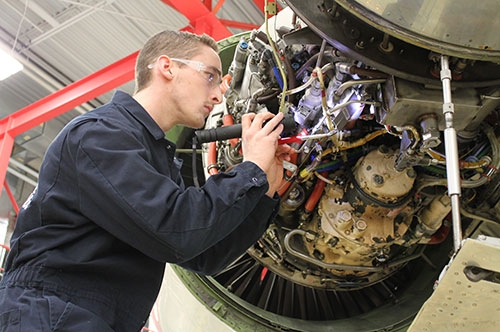 The Québec aerospace sector is a model of excellence and is known internationally for its highly specialized workforce. In Québec, one in 111 people work in the sector, the density of employment worldwide.
One of the major issues executives must take into account is planning for workforce succession. With an aging population and a reduction in its active workforce, Québec faces a major demographic challenge that could affect generational renewal in our companies.
To ensure a competent succession starting now, Aéro Montréal launched the Human Resources Working Group in 2008 composed of 16 executives from the sector, including human resources professionals and leaders of educational institutions. The Working Group aims to develop a concerted action plan to address major issues of succession and manpower while maintaining the industry's competitiveness.
Members of the working group HUMAN RESOURCES

WORKING GROUP CHAMPION
Kevin P. Smith
Pratt & Whitney Canada
Kathleen Bernier, L3 Technologies MAS
Arianne Blanchette, Groupe DCM
Jean-Simon Blanchette, Bell Helicopter Textron Canada
Isabelle Carle, Sonaca
Jacques de Carufel, FDC Composites
Geneviève Dalcourt, École nationale d'aérotechnique
Éric Dionne, École des métiers de l'aérospatiale de Montréal
Jocelyne Dujmovic, Hutchinson
Louis-Marie Dussault, École nationale d'aérotechnique
Melissa Fafard, AéroÉTS
Solange Fresneau, TechFab
Dominique Gérin-Lajoie, Bell Helicopter Textron Canada
Rita Haddad, Rolls-Royce Canada
Éric Jourdain-Cloutier, Bell Helicopter Textron Canada
Tatiana Montes, Leesta
Geneviève Nantel, Stélia Amérique du Nord
Sonia Pérusse, Héroux-Devtek
Nathalie Paré, CAMAQ
Clothilde Petitjean, CRIAQ
Claude Picard, Pratt & Whitney Canada
Marc Plamondon, Bombardier
Véronique Roussy, Techniprodec
Jessica Roy, Atlas Aéronautik
Jean Thibodeau, Airbus
Benoit Villien, Siemens Canada
Jennifer Vaughan, CAE
Observateurs :
Réjean Charbonneau, Emploi Québec de l'Île-de-Montréal
Donald H. Violette, Emploi Québec de l'Île-de-Montréal
Guillaume Bégin, Ministère de l'économie et de l'Innovation
News
Le CTA obtient 1,2 M$ pour l'acquisition de robots collaboratifs pour l'automatisation de procédés manufacturiers

Grâce à l'obtention de deux subventions totalisant plus de 1,2 M$, le Centre de technologie en aérospatiale (CTA) du Cégep Édouard-Montpetit se dotera de nouveaux équipements nécessaires aux activités de recherche pour l'automatisation...

---

August 7, 2018

Mohamed Khalil, Fondateur de Pyrocycle

En octobre 2016, Aéro Montréal, Aéroports de Montréal et l'OACI se sont associés pour célébrer ensemble la créativité de la relève québécoise en aérospatiale lors de la Semaine de l'aviation civile - Montréal en organisant un cas...

---

November 21, 2018

FINALE RÉGIONALE DE LA MONTÉRÉGIE - ÉCOLE NATIONALE D'AÉROTECHNIQUE • 15 AU 17 MARS 2019

Organisé conjointement avec EXPO-SCIENCES HYDRO-QUÉBEC, FINALE RÉGIONALE DE MONTÉRÉGIE / VOLET SECONDAIRE ET COLLÉGIAL – 2019 Montréal, 19 mars 2019 – L'Expo-sciences Hydro-Québec, finale régionale de la Montérégie s'est conclue avec...

---

March 22, 2019

Améliorez la productivité et la compétence de vos machinistes directement à votre entreprise.

De nombreux besoins de recrutement de travailleurs qualifiés en usinage sont observés au sein des entreprises de l'aérospatiale. L'École des métiers de l'aérospatiale (ÉMAM) propose un programme d'ASP répondant parfaitement à ce...

---

March 28, 2019