Growth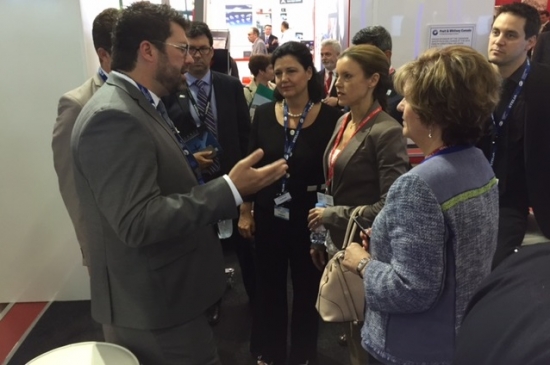 The Growth working group objective is to increase the growth of the Quebec's aerospace cluster by strengthening synergies in order to maintain its position as world leader in an increasingly competitive market.
To achieve this target, three mains topics are addressed:
- Strategic positioning
- Consolidation
- Market development
Emerging and niches markets represent new opportunities for the aerospace sector. Related committees such as Drones and MRO are included under the lead of the Growth working group.
Members of the working group Growth

WORKING GROUP CHAMPION
Hugue Meloche
Président et chef de la direction
Groupe Meloche
Guillermo Alonso, Alta Précision
Éric Beauregard, AV&R
Jean Blondin, Abipa Canada
Jacques Bonaventure, LISI Aerospace
Jacques Cabana, FDC Composites
Christian Delisle, Electro Kut
Sébastien Farkas, Techniprodec
Alain Madore, Dart Aero
Guillaume Gaspari, Groupe DCM
Stéphane Turcotte, Nétur
Xavier Kauza, Thermetco
Joseph Laflamme, Vestshell
Stéphanie Lemieux, Libellule Monde
Eduardo Ruiz, Ruiz Aerospace
Jean-Charles Raillat, Mécachrome
Marie-Christine Cloutier, Bombardier
News
Moovinv est prête à décoller

LA VOIX DE L'EST - 25 juillet 2018 MARIE-FRANCE LÉTOURNEAU Une nouvelle PME technologique de Granby souhaite devenir le plus gros entrepôt 4.0, mondial et virtuel, de matières premières. Son objectif: résoudre la problématique...

---

July 25, 2018

Groupe Composites VCI et FDC Composites annoncent leur alliance stratégique

Montréal, 1er août 2018 – Groupe Composites VCI et FDC Composites sont heureux d'annoncer qu'ils ont conclu une alliance stratégique visant l'intégration de leurs activités et de leurs ressources dans leurs trois usines de...

---

August 1, 2018

First flights for the LX300 helicopter drone

Saint-Joseph-de-Coleraine, September 13th 2018. Laflamme Aero Inc. , a company based in Quebec, Canada, announces today the successful conclusion of its first series of flight tests for its drone, the LX300. With its 300 kg of maximum takeoff weight,...

---

September 20, 2018