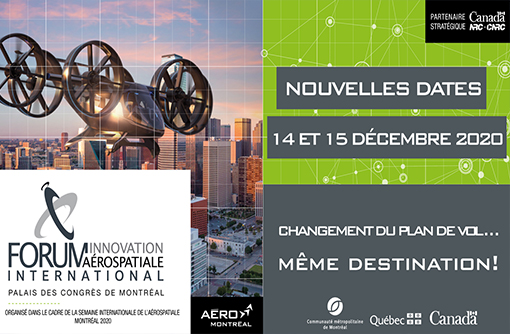 March 12, 2020
International Aerospace Innovation Forum postponed to December 2020
In light of measures to prevent the spread of COVID-19, and in close collaboration with aerospace industry players, Aéro Montréal has decided to postpone the 7th edition of the International Aerospace Innovation Forum to December 2020.
An industry event of international scope, the Forum brings together people from around the world and the health of exhibitors, employees and the public remains our priority.
We expect the situation to improve in the coming months. We invite you to join us on December 14 and 15, 2020 at the Palais des congrès de Montréal and take part in Smart Travel. You will be able to discover innovative and disruptive technologies that will revolutionize our ways of travelling in the future and result in a more connected, but above all greener, journey.
Tickets already purchased will be valid for the postponed date.
The Aéro Montréal team is available to answer all your questions.
Les dernières nouvelles
April 7, 2020

Éric Martel takes the helm at Bombardier

Appointed President and Chief Executive Officer of Bombardier Inc. in March,...

En savoir plus