The greener aircraft catalyst project aircraft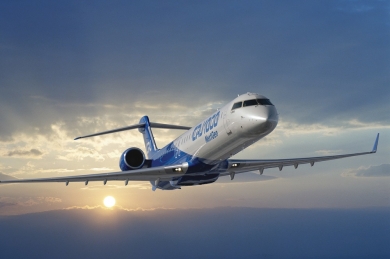 WEB SITE OF THE GREENER AIRCRAFT CATALYST PROJECT AIRCRAFT
PHASE 1 :
The Greener Aircraft Catalyst Project was endorsed in the new 2010-2013 QRIS and given a private-public budget of $150 million over four years, funded 53% by industry and 47% by the Government of Québec.
With the Greener Aircraft Catalyst Project, the Québec aerospace industry has been given the task of laying the foundations for the plane of the future, i.e. a greener aircraft equipped with intelligent systems, less costly to build and more efficient and effective.

Consequently, the aerospace industry is seeking to develop aircraft which, by incorporating several new technologies, will be lighter, more efficient, quieter and produce less carbon.

The first goal in developing greener aircraft is to conserve our environment and thereby meet a vital need in our society. For the industry, there is no doubt that more sustainable airplanes will also be a key to competitiveness in the field of aviation. In 10 or 15 years, aircraft with a reduced environmental footprint will have a clear competitive advantage over others, especially in a context where there are more and more players. To maintain our advantage in Québec, we must start developing, beginning right now, the technologies needed to design and manufacture such aircraft.

The demonstration program for more ecological technologies, the result of Aéro Montréal's Innovation Working Group, is part of a strategy designed to allow the entire aerospace industry to participate in the quest for sustainable development and stand out from the competition. Within three or four years, this initiative will allow partners to participate in specific projects and to bid on major programs.

Five technology demonstration projects will support the Québec aerospace innovation chain and contribute to the long-term conservation of our environment:
Aircraft fuselage structures in composite materials
Led by Bombardier Aerospace and Bell Helicopter Textron Canada, this project will build lighter fuselages for better energy performance and therefore reduce carbon emissions.

Aircraft fuselage structures are currently made of metal alloys that have an impact on aircraft weight and fuel consumption.

Within four years, the goal is to master new advanced technologies for assembling a carbon fibre composite fuselage in an automated and competitive way. As such, it will be possible to reduce the ecological footprint of future aircraft, as well as reduce production costs.
Fuel efficient engine
For obvious reasons, developing an engine that consumes less energy is central to efforts to develop greener aircraft.

A team at Pratt & Whitney Canada is currently developing a new, ultra-efficient high pressure compressor to enhance engine performance. The higher the pressure inside the compressor, the higher the thermodynamic cycle, which means less fuel is needed. To do so, Pratt & Whitney Canada is developing advanced components for this type of compressor and increasing the overall pressure ratio. The increase in the pressure ratio also allows for a reduction in component size and weight, another important element in the development of greener aircraft.

The project will also require the development of new materials because those currently in use can not withstand the heat generated by increased pressure. Pratt & Whitney Canada is also looking to develop new processes to reduce manufacturing and maintenance costs for new engines. Finally, the project aims to develop more efficient electrical components that will facilitate integration of the engine into future generations of aircraft.
Integrated avionics for cockpit applications
Increased air traffic causes congestion at airports, forcing aircraft to circle until a runway is available and resulting in unnecessary fuel burn.

Currently, navigation management is not sufficiently accurate in many aircraft, apart from the largest and newest ones, to predict the exact landing time. The weather is another variable which has an impact on takeoffs and landings and consequently aircraft fuel consumption.

To limit these effects, Esterline CMC Electronics is working on cockpit technologies that will improve navigation performance and help to better predict landing time, reduce distances between aircraft, and operate more efficiently in inclement weather conditions.

How will this be achieved? Mainly through a better integration of onboard functions in the cockpit. This involves bringing together, in front of the pilot, calculating, display, control and signal reading capabilities in an area that is physically smaller, much like we display various programs on a single computer screen.

As a result, the integration of information will enhance the performance of the aircraft's various systems and give pilots faster and better structured access to information they need. This in turn will help them make better decisions.
In the long term, this project will allow for a significant reduction in the energy footprint of our industry.
Integrated avionics for critical systems
Today, the aerospace industry is looking to integrate aircraft critical systems flight controls, wings, engines, landing gear, etc. – into one highly integrated and intelligent system. That is what the Thales Group, in collaboration with Bombardier Aerospace, is working on as part of the integrated avionics for critical systems project.

The proposition is to put all these separate systems on a network, on the same computer platform. Instead of having different electronic units, Thales Canada wants to implement, in the aircraft, a standard electronic platform capable of accepting these critical functions and networking them.

Right away, this should save weight by reducing the amount of copper used in the aircraft. But by linking these functions in a network, it will also be possible to adjust and optimize their performance. This could translate into lighter structures, reduced drag, lower operating energy requirements and, therefore, fuel savings.

Furthermore, passenger comfort could be enhanced in an intelligent aircraft. For example, the effects of turbulence could be cushioned using the flight controls and make changes of direction smoothly through a better coordination of yaw and roll.

The intelligent aircraft will also be highly adaptable because it will be easier to reconfigure it to change its original mission and functions. Therefore, the ability of the aircraft to be more productive throughout its life will be increased.
Landing gear of the future
Landing gear are still largely made from steel-based materials combined with surface treatments that improve their resistance to corrosion. As part of a demonstration project for the landing gear of the future, Héroux-Devtek is looking to develop a system that will be lighter while providing the required resistance. This can be done by using better performing composites or other types of alloys.

The objective is to develop a lighter and more durable landing gear which also offer a greater resistance to corrosion. It should also be quieter and 'intelligent,' that is to say equipped with sensors that provide real-time data acquisition, optimize performance and prolong useful life.
PHASE 2 : to come
PHASE 3 : to come