First International Innovation Forum 4.0 Forum
On behalf of "Réseau Innovation 4.0 Network" and our collaborators, we would like to inform you about:
"The First International Innovation 4.0 Forum", to be held at the Palais des congrès de Montréal on November 6, 2019.
The "Réseau Innovation 4.0 Network" (created in January 2019) is an inter-university collaboration for research, development and training of highly skilled workforce for Industry 4.0. Participating Québec universities are : Concordia University, École de technologie supérieure (ÉTS), Université Laval, McGill University, Polytechnique Montréal, Université de Sherbrooke, Université du Québec à Montréal (UQAM) and Université du Québec à Trois Rivières (UQTR). For more details about the Innovation 4.0 Network, please consult our website: (reseauinnovation4network.com).
The First International Innovation 4.0 Forum, a first major activity of the Innovation 4.0 Network , will cover the global landscape of Industry 4.0 technologies and training initiatives at large and small companies, at academic institutions and at various research consortia and clusters. Please find program attached. For registration : https://innovation4forum.eventbrite.ca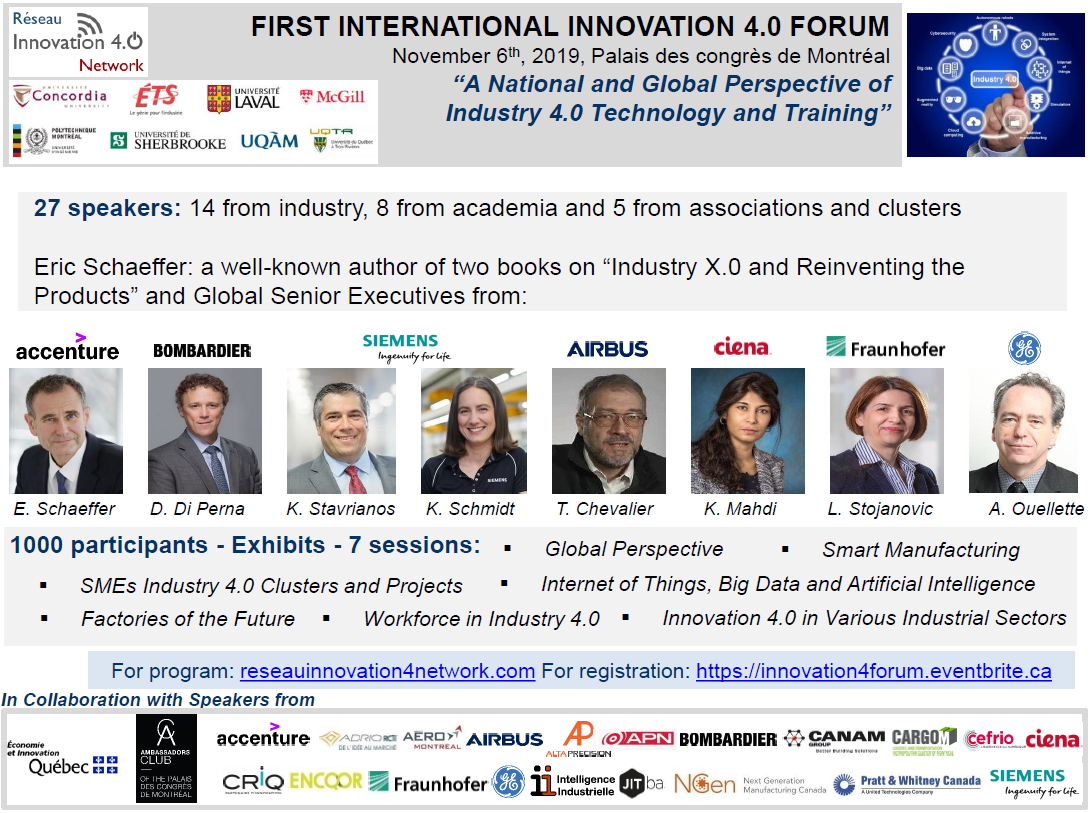 General Information
Venue
Montreal Convention Centre, 1001 Jean Paul Riopelle Place Montréal, QC H2Z 1H5
Contact