The Classic - Golf or Bike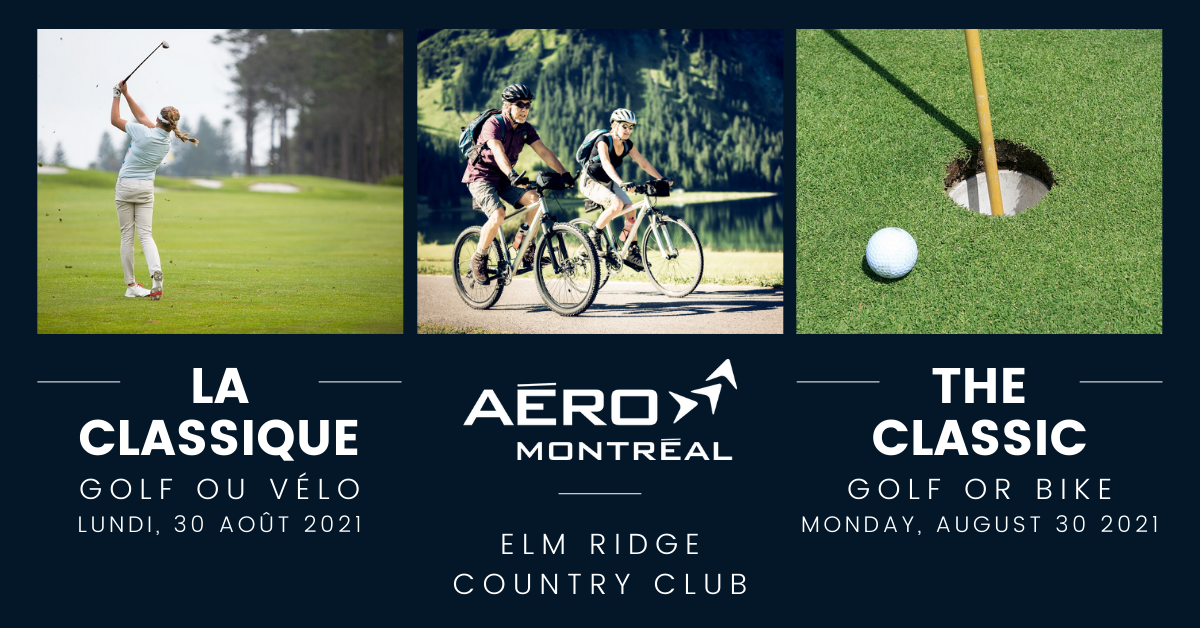 Event date
August 30, 2021
Event location
Club de golf Elm Ridge - Country Club de l'Île Bizard / Elm Ridge Country Club - located on Île Bizard
Contact
Sharon Core, Gestionnaire de projets, Événements et projets spéciaux
Back to List
The new edition of Aéro Montréal's Golf or Bike Classic is taking flight! Registration for the golf activity is now closed, so we are opening a waiting list. For those interested but who have not had the chance to reserve a spot on this list, we invite you to contact Chloé Moffatt (chloe.moffatt@aeromontreal.ca ; 514-987-9390).
Monday August, 30th
at the Elm Ridge Country Club
located on Île Bizard
SCHEDULE
8:30 a.m.: Registration, practice green and GRAB 'n' GO breakfast

9:45 a.m.: Briefing - Everybody in their carts!

10:00 a.m.: Shotgun start - Vegas Scramble

11:30 a.m.: Cycling activity starts

4:00 p.m.: Beverage service starts for the Networking Cocktail (Outdoors, on the patios with awnings)

5:00 p.m.: Air Canada Grand Prize (draw for those attending
the networking cocktail) and other prizes

6:30 p.m.: End of the evening
Your registration for the tournament includes:
GOLF CLASSIC
Parking at Elm Ridge Country Club
Brunch
Golf course fees
Carts
Practice range
Basket of balls
Networking Cocktail starting at 4:00 p.m
And many prizes!
CYCLING ACTIVITY
This activity is open to everyone and offers a variety of bike routes in the region ranging from 30 km to 100 km for the most experienced. Cyclists will be grouped according to their speed category, from 20 km/h to 30 km/h. Registration for the bike activity includes:
Parking at the Elm Ridge Country Club
Lunchbox
Monitoring during the bike race
Refreshments
Access to the Elm Ridge locker room following the activity
Networking Cocktail starting at 4:00 p.m.
And many prizes!
Important: No bicycle rental available on site
All companies interested in partnering with the event are invited to contact Sharon Core, Project Manager, Events and Special projects, sharon.core@aeromontreal.ca.
The Aéro Montréal team will be happy to welcome you for this new edition of the Golf or Bike Classic!