MRO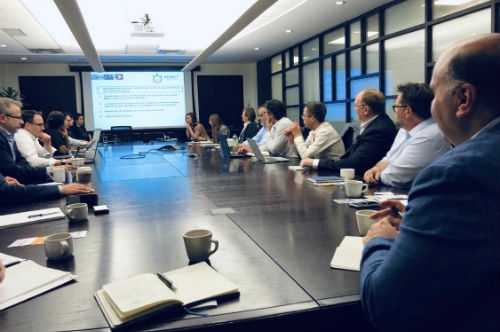 Working Group Vision:
Promote the excellence of Québec's MRO sector on the world stage through a concerted approach involving players with leading-edge expertise.
Working Group objectives:
Ensure the sustainability and reputation of the MRO sector in order to strengthen its position as a global player in an increasingly competitive market.
Foster the attractiveness of the MRO sector.
Strengthen the strategic positioning and competitiveness of Québec companies in the sector.
Adapt government regulations.
COMITÉS DE TRAVAIL

Members of the working group MRO

CHAMPION DU CHANTIER
Timothy Ayoub
L3 Mas
Jean-Pierre Bastien, Premier Aviation
Sabino Buontempo, Rolls Royce
Christian Busch, Air Inuit
Arnaud Cautru, AJW
Patrick Ducharme, Pratt & Whitney
Jean-Marc Dufour, AQTA
Guy Gagnon, AAR
Michel Gagnon, Pole Air
Guillaume Gasparri, Groupe DCM
Toby Gauld, Optima Aero
Sebastien Godart, Altitude Aerospace
Marc Kirner, Pratt & Whitney
Francis Labonté, Luxia
Gilles Néron, Air Canada
Jocelyn Paquette, M1 Composites
Yves Patrice, Lufthansa Technik
Patrick Phillips, Tulmar
Marie-Noëlle Pronovost, Air Inuit
Sylvain Savard, Avianor
Jean Trépanier, Air Transat
Priti Wanjara, CNRC