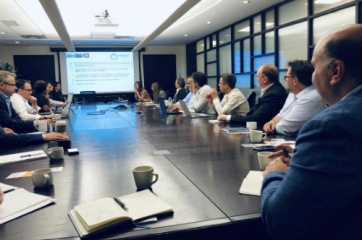 Contact(s)
Anouk Wawrzyniak
Workgroup members
Gilles Néron, Air Canada
Marie-Noëlle Pronovost, Air Inuit
Jean Trépanier, Air Transat
Arnaud Cautru, AJW Technique
Caroline Levesque, AJW Technique
Sébastien Godart, Altitude Aerospace
Wayne Tessier, AURAY Sourcing
Jean-Marc Dufour, Association Québécoise du Transport Aérien
Denis Mailloux, CANREP
Geneviève Dalcourt, CÉGEP Édouard-Montpetit
Stéphane Germain, Execaire
Guillermo Moyano, , Investissement Québec
Guillaume Gasparri, Groupe DCM
Eric Gendron, L3 Harris
Philippe Burton, Leaders International
Yves Patrice, Lufthansa Technik
Toby Gauld, Optima Aéro
Jean-Pierre Bastien, Pole Air Aviation
Sabino Buontempo, Rolls Royce Canada
Benjamin Hamel, DataHub – Amériques, SITA for Aircraft
Julie Cantin, Starlink Aviation
Patrick Phillips, Tulmar
Brigitte Labelle, Shockform Aéronautique Inc.
Many companies in Québec's aerospace cluster work in MRO (maintaining operational capacity). They have common challenges and no forum to collaborate and share their expertise.
This working group's mandate is to promote the excellence of Québec's MRO sector worldwide through concerted initiatives led by players with cutting-edge expertise. (Created in 2019)
Working Group Objectives:
To ensure the sustainability and

expansion

of the MRO sector in order to strengthen its position as an international

player

in an increasingly competitive market.

To enhance

the attractiveness of the MRO sector

To s

trengthen the strategic positioning and competitiveness of

Québec

companies in the sector

To work to

ensure that regulation is not a drag on the sector's growth



Workgroup President

Matthieu Duhaime
Président et chef de l'exploitation
Avianor