François Legault
Premier of Québec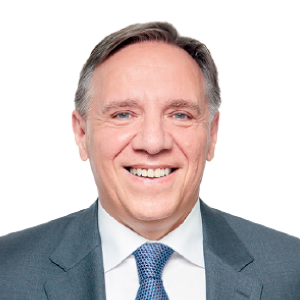 François Legault began his career as an auditor and team leader at Ernst & Young where he worked from 1978 until 1984. He was then appointed director of finance and administration at Nationair Canada in 1984.

In 1985, he became director of marketing at Québécair before co-founding Air Transat in 1986. He served there as President and Chief Executive Officer until 1997. During his years in the corporate world, he served as director for companies such as Provigo, Culinar, Sico, Technolab, and Bestar. He is also a Fellow of the Ordre des comptables agréés du Québec.

During his mandates as minister, from 1998 to 2003, Mr. Legault has overseen numerous initiatives that have benefited Quebecers, such as the establishment of success plans in schools, performance contracts between universities and the government and the Making the Right Choices action plan that set out a clear path to improve the Québec health network.

On February 21, 2011, François Legault and entrepreneur Charles Sirois launched the Coalition pour l'avenir du Québec, a non-profit organization intended to promote public policy. Following the publication of four documents describing its priorities for reviving Québec, he undertook a major tour of 17 of Québec's regions in the fall of 2011.

On November 14 2011, having observed the inertia of the other political parties regarding his tangible, effective proposals, he answered the call of thousands of Quebecers and established a new party, the Coalition Avenir Québec.

François Legault was born in Sainte-Anne-de-Bellevue on May 26, 1957. He is married and has two children. He holds a bachelor's degree in business administration (public accounting) and an MBA in finance from HEC Montréal.

He is now Quebec's premier since October 2018.