BGen Nancy Tremblay
DGEAPM,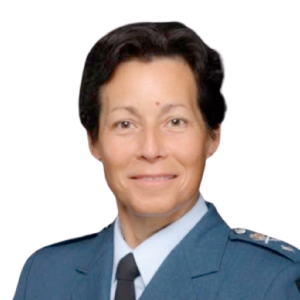 Brigadier-General Nancy Tremblay was born in Normandin, Lac St-Jean, QC and enrolled in the Canadian Armed Forces in 1987.
She served as an Aerospace Engineer in the Royal Canadian Air Force in the following positions: Squadron Aircraft Maintenance Engineering Officer of 438 Tactical Helicopter Squadron, St-Hubert QC; Deputy Commanding Officer of 3 Air Maintenance Squadron, Bagotville QC and Aircraft Maintenance Standards at 1 Canadian Air Division, Winnipeg MB.
Brigadier-General Tremblay commanded 3 Air Maintenance Squadron and worked with the Canadian Special Operations Forces in Ottawa as the Command Headquarters Commanding Officer. During her posting with the Canadian Special Operations Forces Command Headquarters, she had the opportunity to deploy to Jordan to support the capacity building activities with the Jordanian Armed Forces.
She held numerous positions within the Aerospace Equipment Program Management Division of the Materiel Group in the National Capital Region: Integrated Logistics Support Officer within the Utility Tactical Transport Helicopter Project; Aircraft Engineering Officer for the CH-146 Griffon; Director of Fighters and Trainers; Chief of Staff and Acting Director General for a continuous period of 14 months.
Brigadier-General Tremblay held other staff appointments, including Analyst for the Director of Force Planning and Program Coordination within the Chief of Program organization; and Executive Assistant to the Chief of the Air Staff at National Defence Headquarters.
She holds a Bachelor degree in Physics and Mathematics from the Collège militaire royal of St-Jean-sur-Richelieu and a Masters of Defence Studies from the Royal Military College of Canada in Kingston. She is a graduate of the Joint Command and Staff Program and the National Security Program, both conducted at the Canadian Forces College in Toronto.
Brigadier-General Tremblay was promoted to her current rank in June 2019 and was appointed Director General Aerospace Equipment Program Management. She is married and has two sons and one daughter.