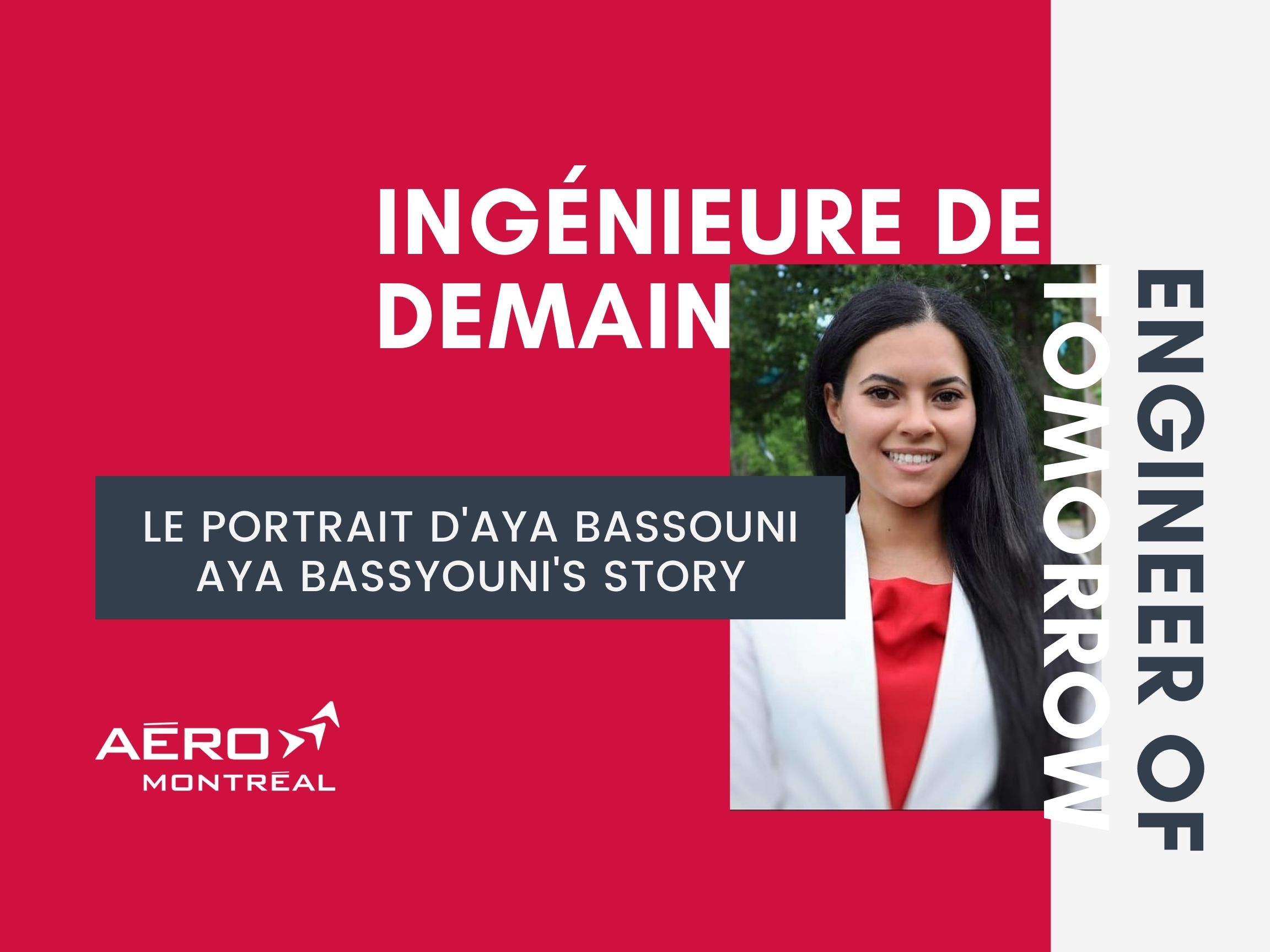 June 23, 2021
Discovering careers in the aerospace industry - Aya Bassyouni's story
Discovering training and careers in the aerospace industry
Aya Bassyouni's story
Aya Bassyouni is a final year student in mechanical engineering at Concordia University. She discovered her passion for space through the Space Concordia group. Inspiring, curious and determined, she shares a few minutes to describe her journey towards an exciting industry!
Portrait of the next generation
What is the aerospace engineering program like?
The first year is quite general; the courses focus on the basics of physics and mathematics. The idea is to learn the equations that we will use in subsequent years. In mechanical engineering, we also learn how to design an object.
In the second year, we start to study thermodynamics and fluid mechanics. It is also provides a valuable opportunity to learn more about the use of software.
The third year is a very important year: we explore all the subfields of mechanics (robotics, structures, thermodynamics, etc.). The last year is shaped by the speciality that we select. Everyone identifies courses to focus on as part of their specialization and starts to apply them through a project.
You have been involved for a long time in raising awareness about aerospace careers. What makes you want to increase this kind of activity?
Medicine and teaching are very well represented in the professions that are presented to young people, but aerospace is not at all. It took me a long time to discover this sector. Now, I want to help very young people make their choices by giving them all the information they need from the very start. The aerospace industry is not inaccessible. It is growing. Everything that is being done in space we can bring down to earth!
Mobile phones, satellites – all these were created thanks to aerospace. We often decide to talk only about astronauts, whereas in the space sector you can work in aircraft maintenance, do physical research, or be a biologist who does research on plants and is interested in plants growing in the international space station. There is a huge variety of jobs in aerospace.
What do you think are the qualities needed for a job such as an aerospace engineer?
I would say that you have to be a logical thinker. Communication is also very important! You have to be able to work in a team. I also think you have to be able to measure the impact of what you do on society. I'm thinking in particular of the environment. For me, you can't reduce costs without also being ethical.
Young people seem to be more and more sensitive to environmental issues and the aerospace industry is getting bad press on the subject. In your opinion, are these two interests contradictory?
The aerospace industry gets bad press because it emits a lot of greenhouse gases. But let's not forget that there are a lot of developments underway to build greener aircraft! We also need to realize that the research and development that goes on in our sector contributes greatly to all industries, not just the aerospace industry. If we had not sent a satellite close to Venus, we would never have known that the earth was experiencing major climate change.
How does an engineer contribute to the industry?
I would say it's by striving to bring all our creative ideas to life to try and solve all the problems that people don't see – but also to improve everything that is already good.
My personal motivation is to get answers. I need to get answers because I am highly curious.
Finally, would you have any advice for those who are hesitating to go into aerospace?
For someone who is hesitant to go into the industry, I would advise them to get involved in an extra-curricular club. This is important because it gives you a better idea of the reality on the ground. It doesn't have to be a club with projects. It can also be a club that promotes networking, which is important because it gives you a better idea of the reality of the work.
Aerospace, a passion
Passionate about her studies, Aya Bassyouni has pursued her involvement in helping people discover the aerospace professions by joining Aéro Montréal's Regroupement Relève et main-d'oeuvre as an ambassador. This group, launched in 2018, represents Québec students and young professionals who are passionate about aerospace and who wish to introduce the industry to the next generation by organizing various types of events (round tables, discovery workshops, expert panels, etc.).
Les dernières nouvelles
July 29, 2021

AÉRO MONTRÉAL EST À LA RECHERCHE D'UN(E) ADJOINT(E) DE DIRECTION

À propos d'Aéro MontréalAéro Montréal a pour mission de soutenir la...

En savoir plus