Nadine Girault
Minister of International Relations and La Francophonie, Minister of Immigration, Francization and Integration, Minister Responsible for the Laurentides Region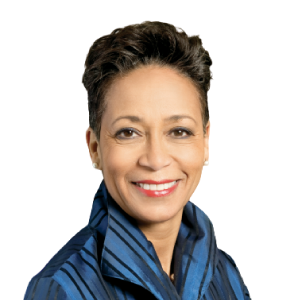 Before entering politics, Nadine Girault worked in the competitive field of B2B sales in the electronics sector. She subsequently worked with the Montréal Urban Community Police Service, where she developed a unique concept of proactive training for its 2,500 officers and commanders.
Over the next 15 years, Ms. Girault held leadership positions at major financial institutions and was recognized as an agent of change skilled at establishing a culture of performance by aiming for high standards while remaining client focused. She then worked as a leadership, marketing and business development consultant. She holds a bachelor's degree in business administration (BBA) with a major in finance and marketing from HEC Montréal, and was awarded the Silver Medal in 2002 for her MBA in financial services at the Université du Québec à Montréal.
Ms. Girault is also deeply involved in her community and has been a member of several committees and boards of directors of organizations, including Investissement Québec, the Fonds de solidarité FTQ, the École supérieure de ballet du Québec, the Jean-Talon Hospital Foundation, the Maisonneuve-Rosemont Hospital Foundation, 24h Tremblant and the Association of Québec Women in Finance (AFFQ).
She was elected MNA for Bertrand in 2018 and was appointed Minister of International Relations and La Francophonie on October 25, 2018, bringing an economic vision to Québec's international relations.
In June 2020, she was given the Immigration, Francization and Integration portfolio following a cabinet shuffle. The Premier also entrusted her, together with her colleague Lionel Carmant, with the responsibility of creating an anti-racism action group. In August 2020, the Premier gave her the additional mandate of Minister responsible for the Laurentides region.
Ms. Girault is also a member of the Conseil du trésor and the Government of Québec economic recovery committee.