MACH Initiative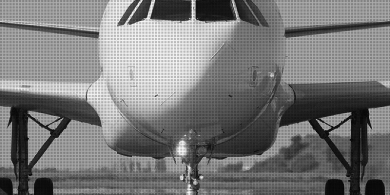 RECRUITMENT OF COMPANIES - CLICK HERE
(Ends on October 13, 2017)
Stemming from the work by Aéro Montréal's Supply Chain Working Group, the MACH initiative is the result of a reflexion between the cluster's players and is meant to be a unifying process aiming for a long-term support of the sector's strategic growth. Centered on the privileged links between client and supplier, the MACH initiative directly intervenes among the industry's companies, to encourage collaboration and innovation in the supply chain, as well as improving the performance and competitiveness of the suppliers.
The MACH initiative is designed to optimize the performance of Québec's aerospace supply chain and increase its global competitiveness. It is the result of joint discussions among members of the cluster and intends to be a unifying process to support the long-term strategic growth of the sector.

To achieve its objectives, the MACH initiative aims to strengthen the supply chain structure and companies involved in it by creating special collaboration links among customers and suppliers. It will also promote the implementation of strategies and projects which will help fill in existing integration gaps of the Québec aerospace supply chain. By doing so, it aspires to help develop a world-class supply chain.

Centered on a program of developing supplier competitiveness, including a performance label, all the measures deployed as part of the MACH initiative will allow suppliers to evaluate their situation, identify opportunities for improvement, and take appropriate action. Mechanisms to develop and welcome world-class system integrators will be implemented, in collaboration with our various partners, to strengthen the weak links in Québec's aerospace supply chain.

The MACH initiative will be deployed over five years under the mentorship of Bombardier Aerospace. The first year of operation, planned for 2011, will reach about 20 Québec suppliers who will benefit from services offered under the initiative as well as from the expertise and support of more than seven world-class prime contractors.

The initiative will progressively make available to participating companies services, tools and methodologies to evaluate and improve their performance and market position and further develop business opportunities.


The program includes services such as:
An assessment of organizational performance Support to carry out a continuous improvement plan based on action priorities
Help to produce an improvement plan, while taking into consideration action priorities
Tailored training programs
Mechanisms for performance measurement and benchmarking at the national and international levels
Tools for dissemination of information and strategic intelligence
A visibility plan that will promote companies both nationally and internationally by showing how they have improved their performance
Cohort List
COHORTE 1
Logo
Name
Label
Business Sheet
ABIPA CANADA
Read More

▸

ARNPRIOR AEROSPACE MONTREAL
Read More

▸

COMPOSITES VCI
Read More

▸

GROUPE DCM (Boisbriand)
Read More

▸

DELASTEK
Read More

▸

ELECTRO-KUT
Read More

▸

HUTCHINSON AÉRONAUTIQUE & INDUSTRIE
Read More

▸

INDUSTRIES TRIDENT
Read More

▸

GROUPE MELOCHE
Read More

▸

MESOTEC
Read More

▸

NSE AUTOMATECH
Read More

▸

PRÉCISION SF TECH
Read More

▸

AVIOR (PRODUITS INTÉGRÉS)
Read More

▸

ARCONIC TITANIUM AND ENGINEERED PRODUCTS
Read More

▸

SOCIÉTÉ INDUSTRIELLE DE DÉCOLLETAGE ET D'OUTILLAGE
Read More

▸

SOCIÉTÉ D'OUTILLAGE M.R.
Read More

▸

TECHNIPRODEC
Read More

▸
COHORTE 2
Logo
Name
Label
Business Sheet
AÉROSPHÈRE
Read More

▸

AIR DATA
Read More

▸

AIR TERRE ÉQUIPEMENT
Read More

▸

ALTA PRECISION
Read More

▸

PRAXAIR SURFACE TECHNOLOGIES
Read More

▸

ELIMETAL
Read More

▸

PCM INNOVATION
Read More

▸

TECNICKROME AÉRONAUTIQUE
Read More

▸

XIPHOS TECHNOLOGIES
Read More

▸
COHORTE 3
Logo
Name
Label
Business Sheet
AMEC USINAGE
Read More

▸

COMPOSITES BHS
Read More

▸

INDUSTRIES DICI
Read More

▸

INDUSTRIES C.P.S.
Read More

▸

OUTILLEURS ARPEX
Read More

▸

M1 COMPOSITES TECHNOLOGY
Read More

▸

MECAER AMERICA INC.
Read More

▸

MF2 AÉRO
Read More

▸

GROUPE DCM (Boucherville)
Read More

▸
COHORTE 4
Logo
Name
Label
Business Sheet
ANODISATION ET PEINTURE TNM
Read More

▸

NÉTUR
Read More

▸

INNOVATECH PRÉCISION
Read More

▸

STELIA AMERIQUE DU NORD
Read More

▸

SONACA MONTRÉAL
Read More

▸

CSTM
Read More

▸

GROUPE EMG
Read More

▸

OUTILLAGES AVITEC
Read More

▸

VESTSHELL
Read More

▸

Optimum Canada
Read More

▸
COHORTE 5
Logo
Name
Label
Business Sheet
AÉROSPATIALE HEMMINGFORD
Read More

▸

APN
Read More

▸

THERMETCO
Read More

▸

SOLAXIS INGÉNIOSITÉ MANUFACTURIÈRE
Read More

▸

FDC COMPOSITES
Read More

▸

RASAKTI
Read More

▸

APEX PRÉCISION
Read More

▸

FINITION ULTRASPEC
Read More

▸

HESS AÉROSPATIALE ET DÉFENSE
Read More

▸

INDUSTRIES LEESTA
Read More

▸

TEKALIA AERONAUTIK
Read More

▸

PRODUITS INDUSTRIELS TRAF
Read More

▸

LEV-FAB
Read More

▸